As we enter 2023, we enter a new phase of pandemic-related workplace design. Many companies are downsizing their real estate portfolio, swapping private desks for collaboration areas, and including perks to encourage staff to work from the office. Here we list our top office design trends for 2023.
1. Commute-worthy workspaces
Many people have continued to work remotely under a hybrid working model since the pandemic. Statistics from both ONS and Hamptons have revealed that Londoners are moving out of the city, with a 38% decline in commuting and an 19% increase in residential purchases outside of the city by Londoners. As such, the way we measure office space has changed, with a focus on employee engagement, collaboration, knowledge sharing and wellbeing.
Today's workspaces need to offer workers an experience to deepen connections with colleagues, foster a sense of belonging and propel success. To ensure a commute-worthy workplace experience, office design will feature more open spaces to offer versatility and boost productivity. Social areas will be included with a dual purpose to provide a space for staff to step away and refocus, and for company culture to strengthen. Comfortable workstations and furniture will provide a home-like feel to echo the domestic environment people have grown accustomed to while working remotely. By incorporating ergonomic chairs, adjustable desks and soft seating into the design, staff will be able to work comfortably and efficiently at a supportive workstation that is fit-for-purpose.
2. Dynamic workspace
Future-facing office designs will focus on empowering staff and providing settings to suit all work styles and purposes, with dynamic workspaces that facilitate concentration, collaboration, and wellbeing.
For many companies, hybrid working will remain the norm and their offices will need to be designed to enable connections with remote colleagues. Design elements such as small pods and 'Zoom rooms' will grow in popularity to provide privacy for virtual collaboration. Writable walls, reconfigurable furniture, and smart technology features like interactive whiteboards will be used to boost staff creativity, collaboration, and productivity.
A combination of indoor and outdoor space has become an increasingly desired feature of an office building. Companies are looking for a variety of experiences to offer flexibility and stimulation, as well as spaces to host social events social and bring people together.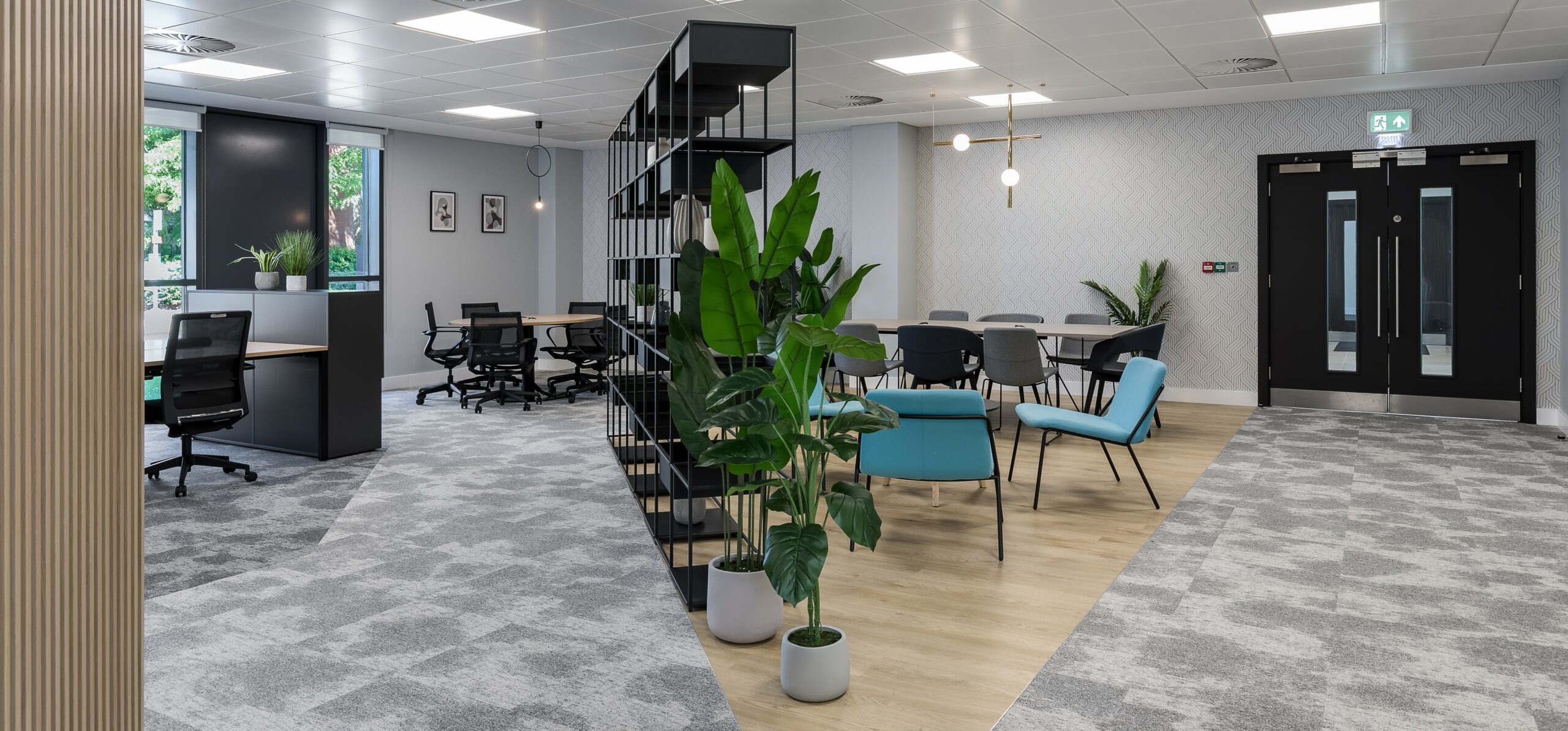 3. Technology
Moving into 2023, office technology will shift focus from cloud-based systems to facilitating communications, increasing efficiency, and boosting performance. Workplace tech is developing at a fast pace to support hybrid working, enabling flexible, reliable communication that supports employees wherever they are. Scheduling and workplace management software is designed to support flexible working policies and enable greater fluidity. Some companies are further embracing hybrid working by installed extended reality presentation suites as a way of enhancing virtual communications.
Developments in smart technology will play a major role in office design for 2023. Smart technology developments in AI, big data, and machine learning will endow objects with cognitive awareness and improve office efficiency. For instance, smart thermostats, lights, and coffeemakers will be employed to automatically respond to changing conditions or pre-learned personalised requirements, rendering human intervention.
4. Sustainability
Sustainability has long since passed being a trend and is now a core component of every office design. As sustainable habits become more widely adopted, they have started to inform business practices with companies aiming to achieve carbon net zero as well as reducing the carbon footprint of their office space.
There are lots of simple, eco-friendly design practices that can reduce a building's energy usage and waste. By incorporating a high-efficiency system like LED lighting, taking advantage of natural light, sticking to low-emission materials and using repurposed furniture, businesses can easily lessen their environmental impact.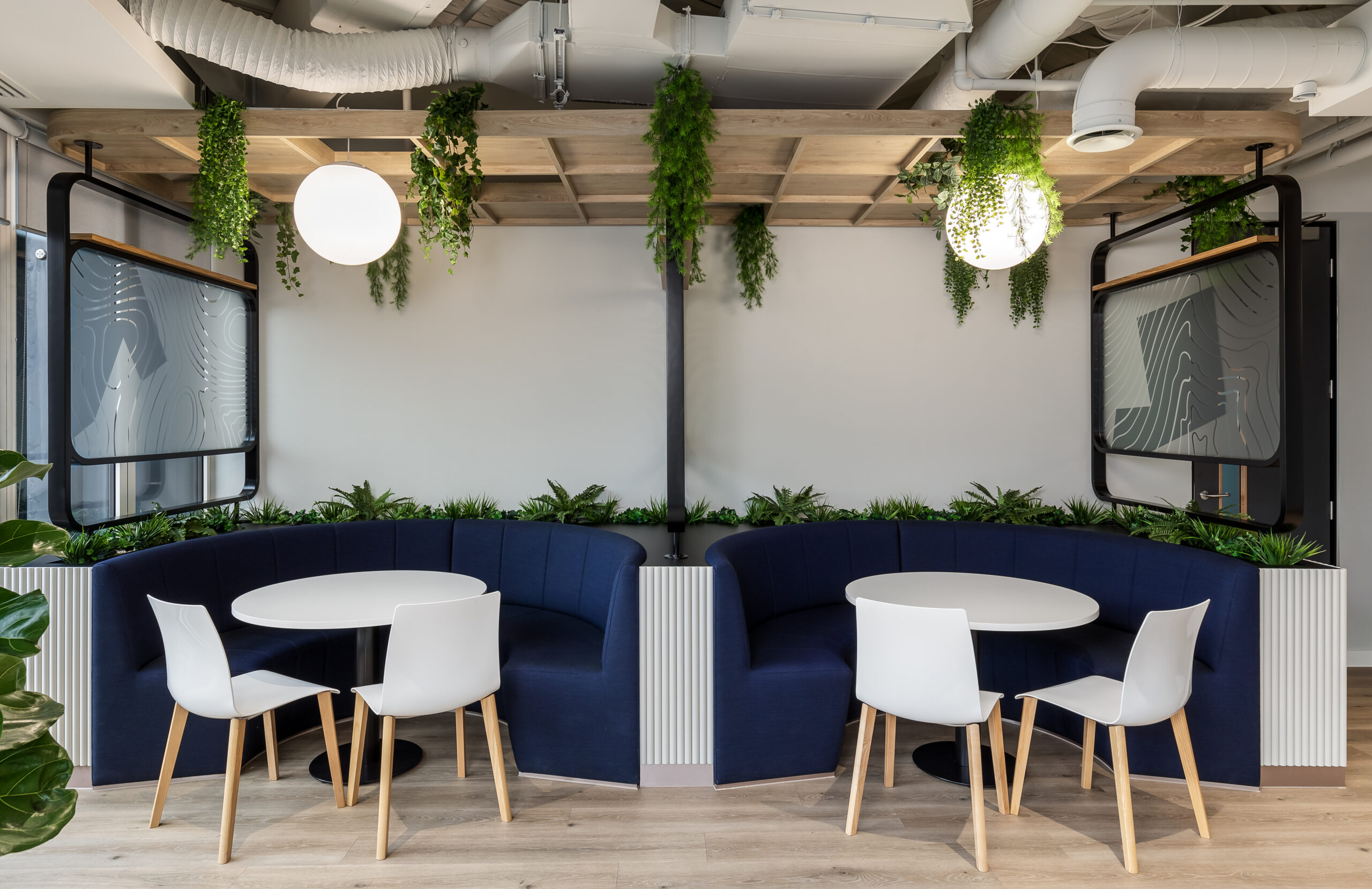 5. Wellbeing
With an ever-increasing focus on health and wellbeing, wellness at work has become a top priority for businesses in order to retain talent and ensure their employees are able to perform at their best. The office must be a nurturing, comfortable environment for employees where they feel supported and their needs understood. Businesses that don't consider their employees' mental wellbeing risk losing top talent and their staff facing burnout.
The Workplace Health Report 2022 showed that mental health was a factor that impacted productivity levels in 20% of employees surveyed. There are several ways in which leaders can integrate or improve mental health in the workplace. Whether this is actioned through workplace culture, implementing new benefits, or redesigning elements of the office, there are steps which can be taken to create a supportive work environment.
Companies are now well-versed in flexibility and hybrid working and learned valuable lessons from the changes workplaces faced in the last few years. The benefits of empowering staff and offering autonomy are undeniable, and work environments have evolved to support this. The trend of downsizing real estate space and investing in quality, inclusive office space is one that will continue in 2023 and beyond.
If you have any questions about our design trends or would like to speak to a workplace consultant, contact one of our specialists.