Inclusivity is key to building the right space for everyone, and it starts with recognizing that each employee is unique depending on their background, abilities, and characteristics. The goal of an inclusive office design is to provide equal opportunities to all individuals, giving employees a place where they feel accepted and part of a community. Not only will this type of environment bring people into the office, but it creates a workforce who are engaged, productive and motivated.
Creating a human-centric environment that meets the needs, values and preferences of your employees welcomes a larger pool of talented people into your business. We have put together some key ideas to building inclusivity into your office design to ensure your workforce are high performing, happy and respected.
1. Adaptability
An adaptable environment is essential to an inclusive office design and building a variety of workspaces for employees caters to all individual work styles and preferences. A collaborative design also nourishes employee needs for social interaction both within and outside of work meetings. These agile areas work as a place for both open discussions as well as social conversations, creating a community feel in the office.
Additionally, a variety of open workspaces encourages human connections, relationships and ignites group belonging. It also creates space and movement throughout the office, leaving room for visual connectivity between colleagues. Diverse seating arrangements for all body types and personal preferences is another way to encourage an inclusive workplace. Ergonomic furniture is a helpful strategy in accommodating for everyone in the design process. This could include adjustable chairs with arm rests and posture correcting designs, like standing desks, which can prevent discomfort whilst working.
2. Work life balance
A healthy work life balance is important for employees, designing a workplace that fosters human needs and supports individual wellbeing. Facilities that support employee health can include retreat rooms, gyms, gardens, showers, and bike stores. An office design with these amenities allows time and space for employees to relax, rejuvenate and focus on their mental and physical health.
Offering remote working options through a technology efficient design puts employee priorities first, as this provides flexibility to hybrid work. It is vital to incorporate meeting rooms with large digital screens, effective sound systems, built in cameras and high-speed internet so that those working from home can join in-person discussions efficiently. This ensures people can balance personal and professional lives, reduce long commutes and work during disruptions or transport issues. In short, an office design that supports employee's mental health and wellbeing promotes a nurturing business culture which can encourage employee retention and productivity.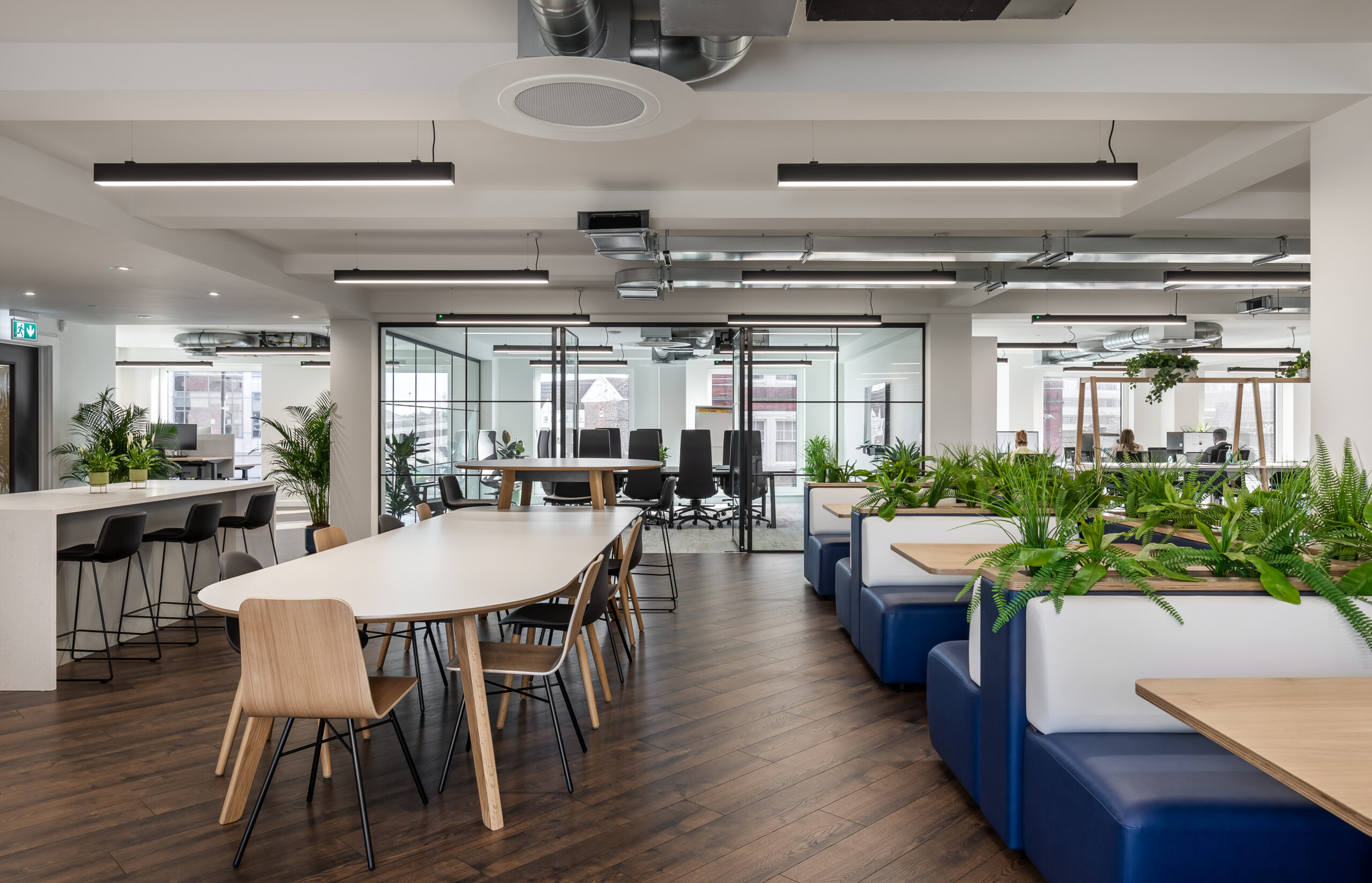 3. Cultural Diversity
Creating a space that acknowledges the diverse cultural backgrounds of employees is necessary in building inclusivity into your office design. A workplace that embraces diversity creates a welcoming environment while simultaneously building teams from varying backgrounds.
There are many design techniques that can be employed to create a culturally diverse workspace. Firstly, incorporating multi-faith retreat rooms into design choices provides a sanctuary for employees that may need a safe, quiet space for prayer, meditation, or reflection. When making decisions about artwork, sculptures, and decorations within the workplace, ensure they represent different cultures. Thirdly, incorporate flexible areas that can be used for events such as cultural celebrations or holidays. These simple yet crucial details are important as it helps to support all individuals within the business. This encourages a community that promotes acceptance and belonging, which boosts employee satisfaction and motivation.
4. Support employees with unique needs
While it is important to include collaborative work areas in the design of your office space, the option for employees to work in smaller, private spaces is equally essential. Think about building workspaces with reduced noise levels including focus pods and rooms with acoustic protection such as insulating doors and walls.
Understanding neurodivergent individual's diverse strengths, needs and workstyles is crucial to an inclusive work environment. Neurodivergent employee preferences will vary widely, however there are proactive ways towards shaping an inclusive office environment for them. For instance, striking a balance in noise levels within the office design is extremely valuable to such individuals who struggle with atypical functioning, this includes Autism, ADHD, and Dyslexia. Similarly, incorporating control over the office environment with adjustable temperature and lighting, will equally support these employee's needs.
It is also vital to consider visual and hearing impairments when designing the workplace. Design considerations should be made to include both visual and tactile signage like physical braille. Furthermore, the incorporation of design techniques like ramps, wide entrances, and large spaces for wheelchair users will guarantee accessible facilities for employees with disabilities.
5. Sustainability
Building an eco-friendly office puts employees at the heart of the design process. Not only will environmentally conscious staff feel valued and respected, but a sustainable company ethos promotes a positive brand image.
Making design choices with your environmental impact in mind is a great way to take care of employee well-being, comfort, and satisfaction. Consider a biophilic design where natural elements are built into the office interior. By opting for indoor plants, plenty of natural lighting or even water features, employees can remain exposed to nature while in the office.
Using sustainable materials in the workplace ranging from biodegradable pens to upcycled furniture also demonstrates environmentally mindful interior decisions. It is important to establish clear sustainability policies throughout the office, such as a consistent recycling system with clear signage above appropriate bins. In sum, sustainability is an integral aspect in modern office design, it contributes to a more eco – friendly workspace which considers both the environment and employee wellbeing.
Designing an office with the whole company at heart helps to provide everyone with a sense of community, belonging and understanding. With a world of talented individuals from all types of backgrounds, there is an ever-growing possibility to expand your workforce. Staying up to date with what makes your staff happy and productive is as vital as ever. Building an office design which support's diverse abilities, talents and preferences across the workforce can lead to a business culture which thrives. Therefore, fostering a culture that is inclusive to all employees will provide high performing teams that are attracted to the office environment.
For more information download our guide about the office design process.