Recent climate crises' have brought sustainability and well-being front of mind for many businesses. Below, we have listed the many ways businesses can demonstrate their commitment to sustainability through office design and accreditations. 
According to recent statistics by the International Energy Agency, the global building and construction sector accounts for 30% of total global energy consumption. With more accreditations and resources now than ever before, implementing design measures that support sustainability and wellbeing is the easiest it's ever been. The only way to futureproof your workspace is to ensure the future of our planet is a key consideration in its design.
Sustainability rating schemes
The built environment has both direct and indirect environmental impacts. As a result, many green rating schemes have been established to mitigate these impacts through the encouragement, measurement, and recognition of sustainability performance. Getting your project or building certified by one of these schemes is a great way to show your commitment to sustainability.
The benefits of sustainability accreditations: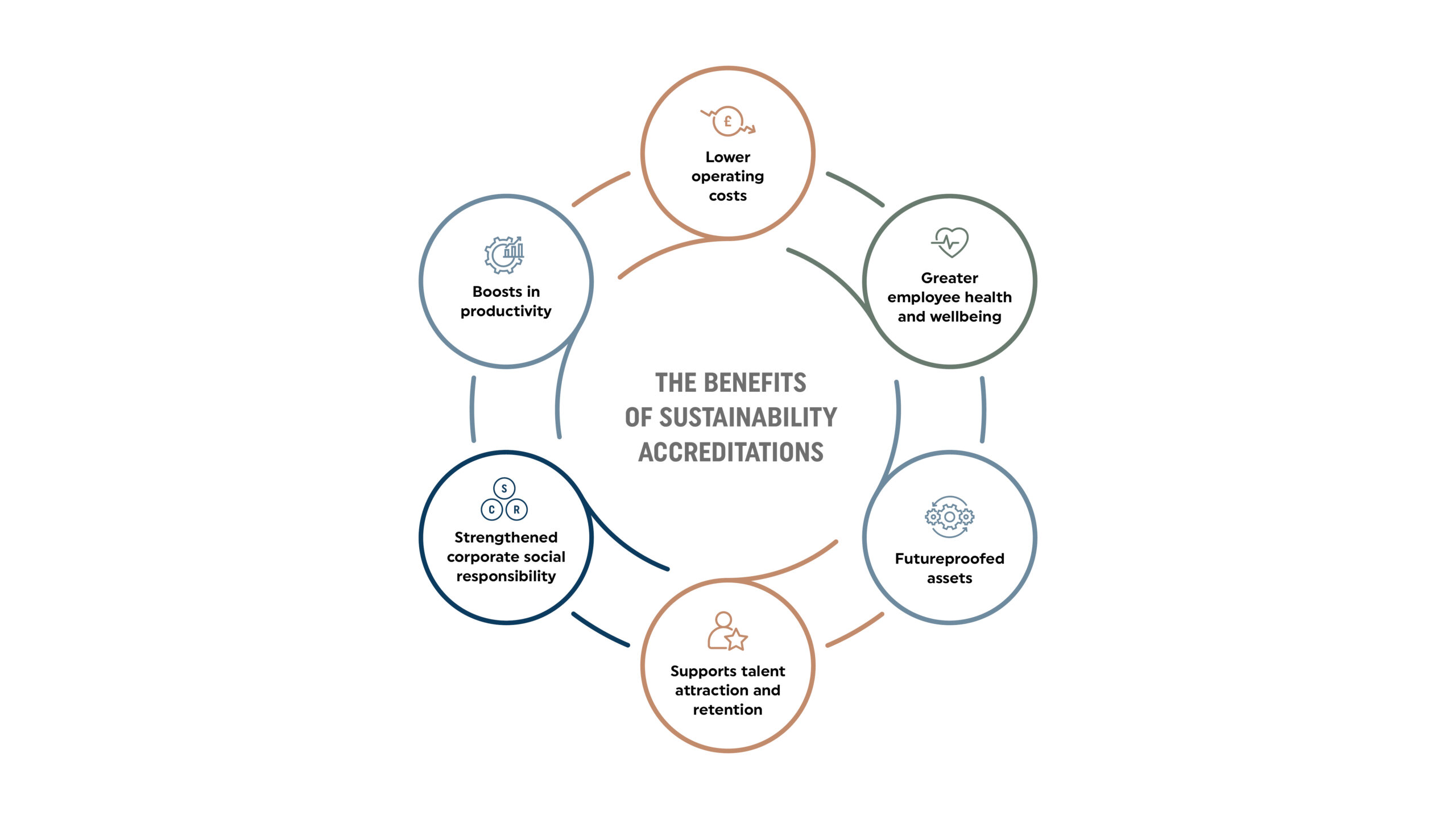 BREEAM
BREEAM is the Building Research Establishment (BRE) Environmental Assessment Method. It sets best practice standards for the environmental performance of buildings through design, specification, construction, and operation. The assessments are carried out by licensed assessors based on a scoring scheme with nine criteria that focus on energy, land use, water, health, pollution, transportation, materials, and waste management.
SKA Rating
SKA Rating is a Royal Institute of Chartered Surveyors (RICS) environmental assessment method, benchmark, and standard for non-domestic fit outs. It helps landlords and tenants assess fit out projects against a set of sustainability good practice criteria. The SKA guide can be implemented by the project team and covers energy, CO2, waste, water, pollution, transport, materials, and well-being.
---
Wellbeing assessment schemes
Workplace well-being was already a popular topic; however, the COVID-19 pandemic has brought it to the forefront of office design. Businesses are increasingly looking to enhance well-being through their office environment to maximise both productivity and motivation. It is difficult to measure and track workplace wellbeing, therefore in the last few years two assessment schemes have been developed to solve this problem.
The benefits of investing in wellbeing schemes: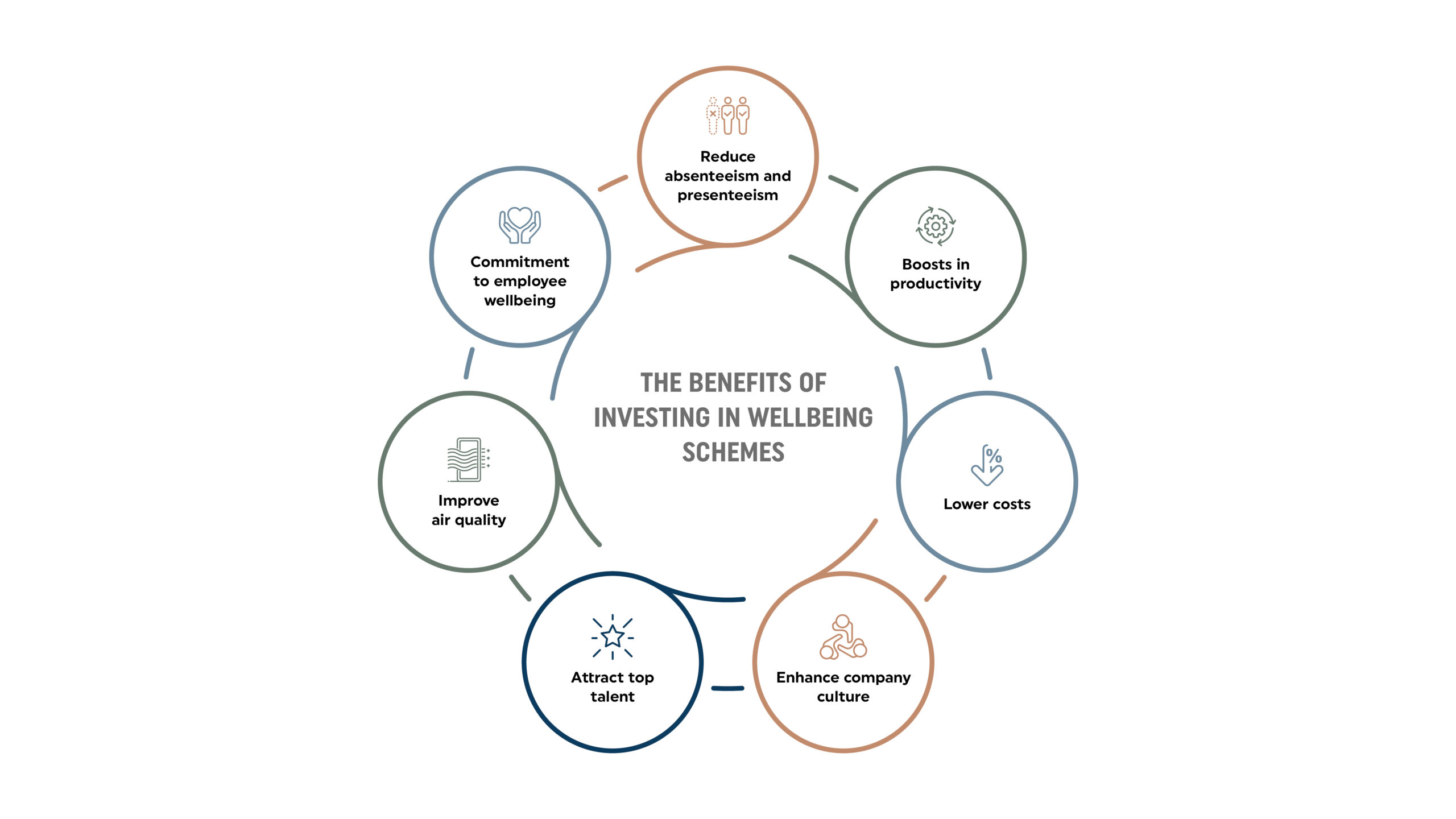 WELL
This rating scheme was developed by the International WELL Building Institute. It is based on seven years of research in partnership with scientists, doctors and architects exploring the connection between the building, where people spend their time, and the health and wellbeing impacts of those buildings on occupants.
Projects can achieve a WELL certification by achieving a defined score in the following ten categories:
Air
Water
Nourishment
Light
Movement
Thermal comfort
Sound
Materials
Mind
Community
Fitwel
Fitwel was created by the US Centre for Disease Control and Prevention and is designed for commercial interiors – multi and single tenanted buildings. It provides tailored scorecards for different types of projects that provide guidelines on how to design and operate healthier buildings.
Fitwel's seven health impacts:
Impacts community
Reduces morbidity and absenteeism
Supports social equality for vulnerable populations
Increases physical activity
Promotes occupant safety
Provides healthy food options
Instils feelings of wellbeing
Materials
Sustainable office design involves much more than bringing natural elements into the office and with the increase in demand for sustainability accreditations such as BREEAM, companies are now occupying more sustainable buildings than ever before. There are lots of ways to design a sustainable office, but it largely revolves around what each business is looking to achieve from a sustainability point of view.
Get in touch with an expert to discuss how you could make your office more sustainable.