Time is always of the essence when it comes to an office fit out. First there's the issue of office space availability. Vacant commercial space in Central London has fallen by 20% in the last 12 months – putting even more pressure on companies to secure suitable offices.
Plus, with commercial space in the City at a premium, competition is rife. Consequently, businesses need to act fast to avoid being gazumped. Plus, if you are a victim of gazumping, then you have even less time to find another property and complete refurbishment plans.
Given this tricky situation, is there anything you can do to make a commercial fit out in London go more smoothly?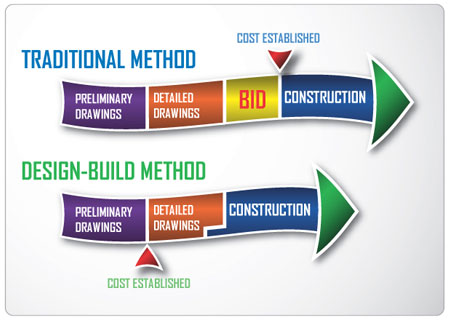 Traditional Vs. Design & Build
The traditional office procurement process usually takes the longest, with delivery times uncertain. Variations to the tender specification consequently have both a time and cost implication.
With potential for an escalating budget, this traditional route – where the contractor is appointed much later – can be a frustrating one for companies who want more certainty about costs and timescales.
Generally, a traditional procurement process takes 34 weeks from outlining proposals to project implementation. Contrast this with a typical Design and Build (D&B) approach which on average takes 22 weeks – or three months less than the traditional route. Some D&B projects take even less time – between 5 to 12 weeks.
The difference is that the D&B route – with all elements of the design and refurbishment project under one roof – offers more certainty about costs from the outset. And because you only have one port of call for all stages of the process, issues can be dealt with swiftly.
This turnkey option is, therefore, more time efficient and cost effective. Plus, because it's a relatively low risk procurement option, you have less to lose should something go wrong.
What's interesting is that we are seeing more and more fit out projects following the D&B route. In fact, research reveals that 85% of office fit outs costing less than £5,000,000 are procured through the D&B process.
Not just for smaller projects either. We have seen fit out projects from 1,500 sq ft to 70,000 sq ft and beyond… Something to consider for sure…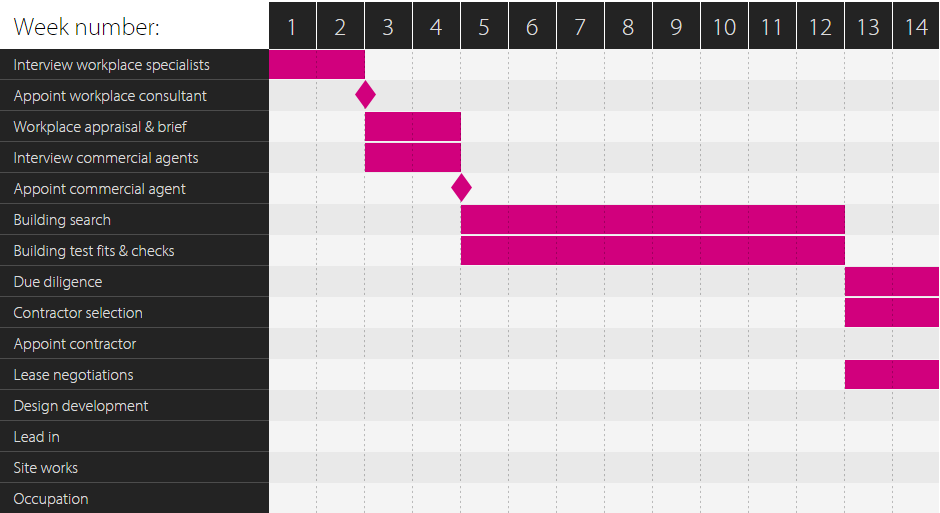 Ready to Get Time Savvy?
Time and cost savings are clearly a crucial consideration in any commercial fit out project in London. To help you get a clearer picture of how long your fit out could take, try this fantastic tool – the Timescale Calculator.
Helping you accurately estimate likely timescales, it's a great way to put you in the driving seat of any procurement process whether traditional or D&B.