Businesses that are experiencing or planning for growth face a challenge when it comes to selecting the right office space. With companies seeking flexibility in their leases as well as being cautious to not take on more space than necessary, there is a need for considered decision making. Growth businesses need to make good decisions that benefit them both long and short-term and this begins with their office space.
There are currently over 32,000 high-growth businesses in the UK and while some companies have opted to work remotely and inflexible co-working spaces, the discussion around property and office space becomes increasingly relevant as your business grows. If your business is experiencing sustained growth or is forecasting rapid growth, your workspace may soon be inadequate for the requirements of your business. If you are rethinking your office space then there are several key things to consider that are especially important for a growing business.
To help, we have put together a list of office design tips that will enable your new space to grow and evolve with you.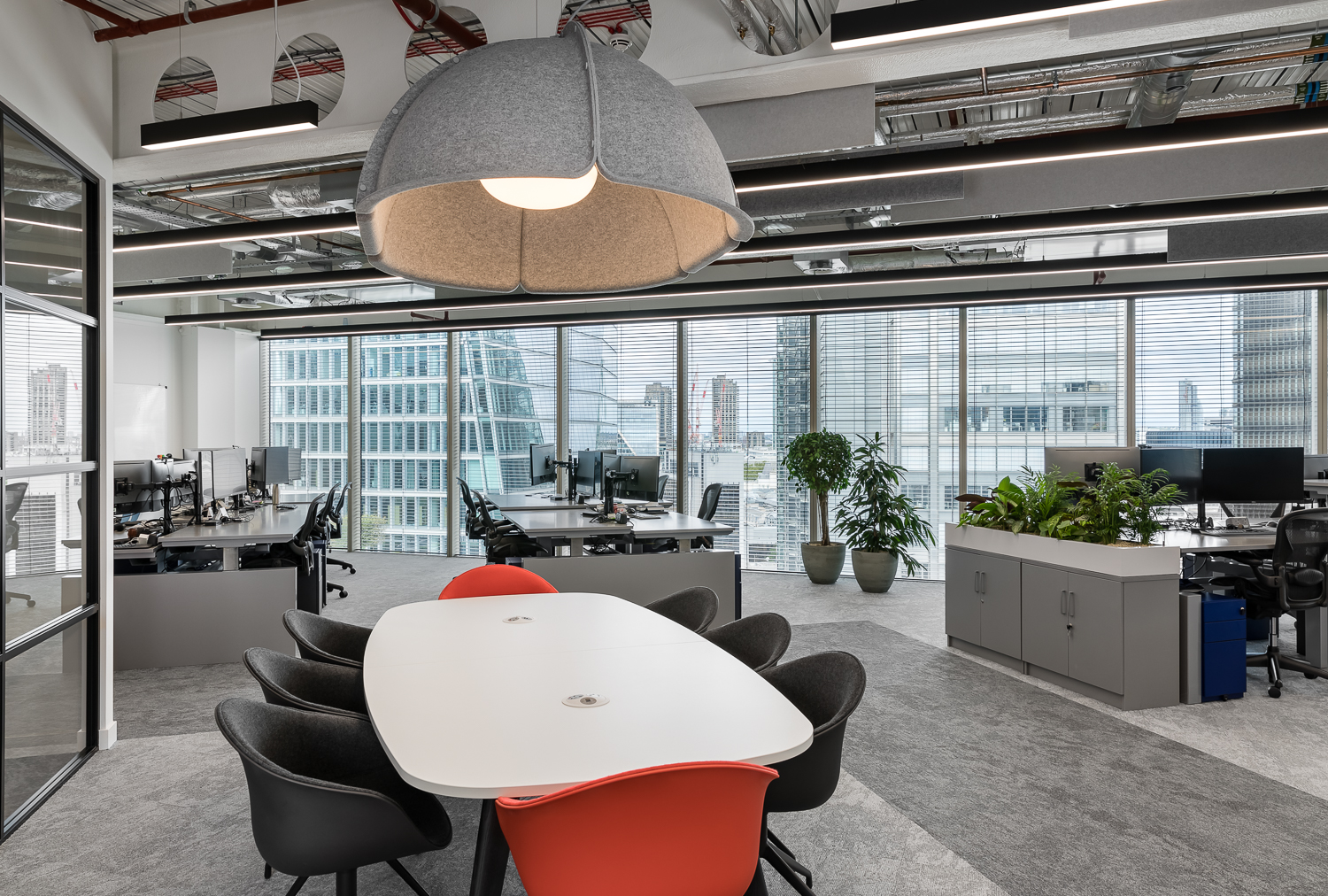 Predict your future growth
When designing an office space for a growing company it is especially important to plan for future growth. It can be difficult to predict your future headcount, especially during a time of uncertainty.
Taking an office with too much space can have residual effects on your profitability; building an office with too little space can limit performance and restrict your growth. The solution to this is to build flexibility into your space that will enable you to accommodate any changes easily. With the rise of flexible and hybrid working, offices are being designed for a more transient workforce which will naturally enable more room for change and fluctuations.
Even though it might not be easy to predict exactly how your business will grow, taking space that is aligned with your plans will give you more freedom. Making short-term decisions on your current needs may lead to another office move within a quick timeframe.
Define your company culture with your office design
Establishing your company culture is essential to supporting business growth. Company culture will be evident in the office design, as the workplace both shapes and reflects a company culture and are often immediately apparent.
To build culture into your design, you should adopt a human-centric approach. By putting your employees first, you can help create a sense of community and encourage social interaction across the business. As a growing business, this can sometimes be an emerging theme in comparison to a well-established business but it is no less valuable. Create an office space that your people can buy into and make it a destination they want to spend time in.
Design a flexible workspace that supports agile working
If your business is expanding rapidly, you need an office space that is flexible and supports agile working patterns. Moving away from traditional workplace models offers employees the choice of hybrid working and an improved work-life balance.
Open floor plans, social spaces and workstations that support different tasks will help your staff to embrace a more fluid way of working. With people splitting their time remotely and, in the office, your workplace needs to reflect the way people are using it. This may mean investing in new technology and greater connectivity throughout the office or it may mean fewer fixed desks and increased hot-desking and informal touchdown space.
Agile working is about presenting people with a choice of working environments within the office. This enables people to move around the workplace to work in different areas based on the tasks they are working on. Flexible spaces can be multi-use and therefore release extra office space for people that require fixed desks or to be designed as collaboration or meeting space.
Create a workspace that will attract top talent
As a growth business, your recruitment strategy will be a prominent part of your business and you will want your workplace to add value and support that. Not only is it important to attract people to your business, but you also need to keep them.
Top talent will be looking for reasons to join a business and if your workplace can provide an environment that will help people connect, grow and develop then you will appeal to more people. The goal now for many businesses is to shift their focus on why people want to join and office design is a key part of that.
Flexibility is set to be a key motivator for job changes in 2022, with many wanting a better work-life balance. Thus, you should consider designing your office with a more progressive, hybrid-friendly approach. The "Great Resignation" is a misnomer, as the vast majority of those who quit one job are simultaneously shifting to a different, more attractive job.
Decide on the right procurement method
Designing and building a new office for a growing company is a major investment, so you want to make sure you choose the right procurement method. For a growing company, a design and build procurement method may be beneficial. They will provide expert advice throughout the entire process and manage the project from start to finish. This can help improve efficiency on time and costs for delivering office design projects.
For more information contact one of our specialists.