Earlier in October, we went to Humanscale's newly refurbished showroom for a chat with Tamsin Grosvenor, acting Marketing Manager for the UK, for a catch up on the latest from the pioneering ergonomic furniture manufacturer.
Humanscale have gone from strength to strength in the last 10 years, releasing a wide array of tools and solutions that have proved immensely popular in both commercial and retail markets.
There was also recent cause for celebration with two new showrooms being opened globally (in Mexico City and Nuremberg) and they had just taken on their 1000th employee (Karine in the Singapore office).
From its inception, the company have focussed on improving how furniture fits to the user.  Noticing how computer users were suffering from eye-strain and headaches whilst working at their PCs for extended periods, the CEO and owner, Bob King began selling glare filters for computer screens to great success. The name 'Humanscale' arose when the company began work with the innovative industrial designer, Niels Diffrient who was writing a series of books that revolutionised the design principles of ergonomics; refocusing the science on how people work in order to create products that work for people. As this reflected the philosophy of the company, the name couldn't of been more apt.
With his radical approach to human-led design, Niels worked on a wide variety of products and solutions – from Polaroid cameras to cockpit seating. In 1999, he created the award-winning Freedom task chair. With its formidable aesthetic and comfortable support, the Freedom intuitively weighs each user to find their perfect recline position and move freely from posture to posture. On the later Humanscale chairs, Diffrient went to work on, this same intuitive design aspect was applied and can be found on both the Liberty and Diffrient World.
So there's a potted history of Humanscale, but what about the new and now? Tamsin had quite a lot in store for us to play with; here are 5 of our favourites: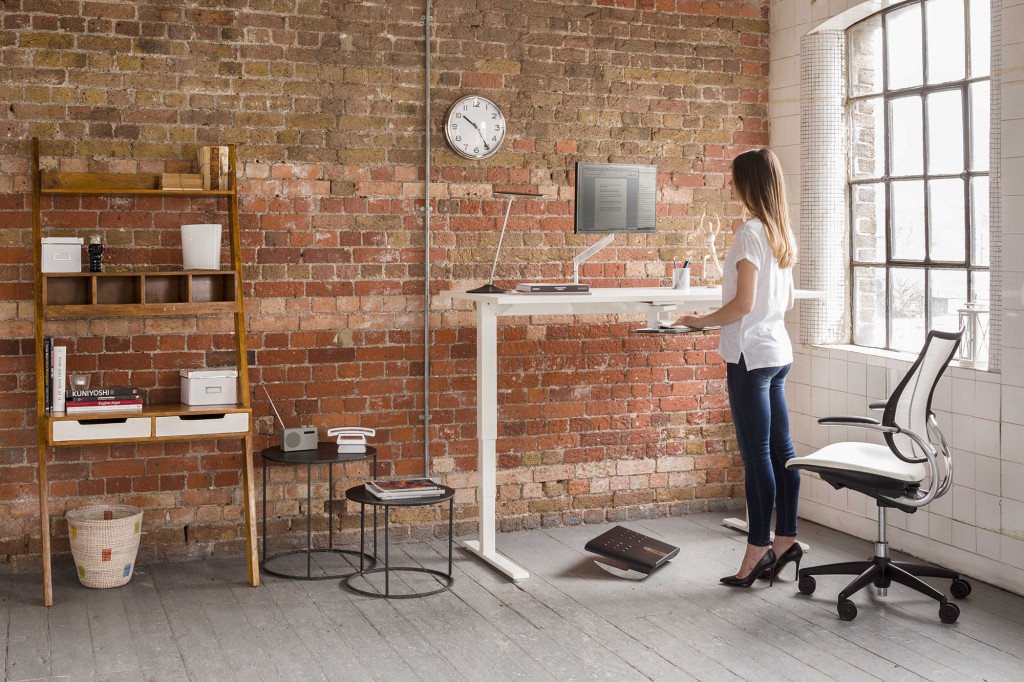 With recent research suggesting that long periods of sitting is harmful to one's health, height-adjustable tables such as Float are more essential than ever. Featuring a unique counterbalance mechanism, Float enables simple, one-hand height adjustment for ergonomic sit-stand usage, without a clunky crank or electric motor. The system almost silently "floats" into position by pressing a lever – requiring very little force to move and making the change from one posture to another as simple as standing up.
Float's elegant, clean lines hide its sophisticated functionality whilst removing the need for an additional crossbeam; we think that understated and simple form would complement any modern office environment.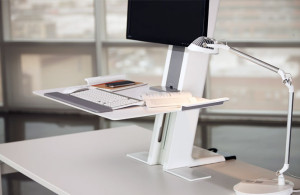 For those looking to purchase a sit/stand solution that may not yet want to invest in a wide array of height adjustable desking, Quickstand allows you to convert any standard desk into a healthy sit-to-stand workstation. Working on similar design principles to the Float, the hidden counterbalance mechanism quietly raises and lowers the keyboard platform to effortlessly move between sitting and standing.
We were impressed by how customisable Quickstand is with the ability to add a larger platform (we're guessing for paper-based work tasks) and a crossbar for dual screens. The solution retains a refined and sleek aesthetic and with integrated cable management, it would work well in hot-desking offices where users can simply plug in and go.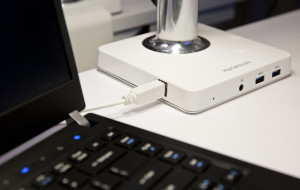 In many of our office projects we've seen the desire for open-plan, hot-desk zones. One of the major difficulties with such workspaces is the time spent setting up and detaching from the workstation at the beginning and end of the day. With M/Connect, this is made as quick and simple as possible with easy access to power ports and monitor connections to 'plug and play;' ensuring users can still exploit the benefits of a monitor arm and ergonomic chair, wherever they are in the workplace.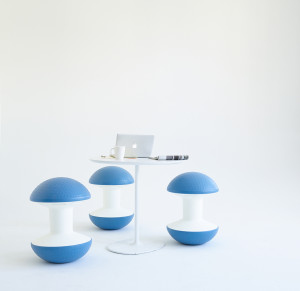 One product that had the public flocking to the Humanscale stand at Orgatec last year was the Ballo. Created by Don Chadwick, whose design heritage includes Herman Miller's Aeron Chair, Ballo takes a fresh look at the exercise ball and considers how this might work in an office environment. The vibrantly coloured curved top and bottom allows you to gently bounce and sway while your body naturally finds its centre of gravity. This exercises the core muscles throughout the day through its constant movement, and while not made for the long sit, we see Ballo being perfect for the ad-hoc pow-wow.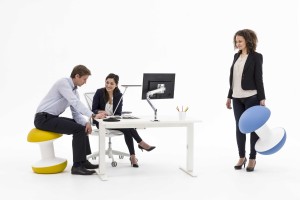 By splitting the ball into two separate domes, the chair is safe to sit on without the fear of rolling or toppling off whilst also lending it a unique design aesthetic – we were somewhat torn between Ballo's form seeming like an apple core or fairy tale mushroom.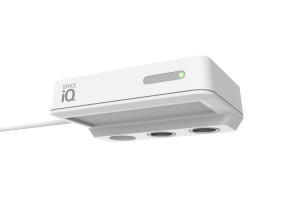 In a move to integrate furniture and technology, OfficeIQ's innovative design has appeared on many NeoCon 2015 hot lists. In a nutshell, this is intelligent, wearable tech for your desk or chair. The box contains a sensor that determines whether you're sitting or standing and vibrates every 15 minutes to jog your memory to get moving.
Behind this relatively simple alert function is a clever analytics package that measures calories burnt while standing (approximately 340 calories for 2 hours per day spent standing). This is all displayed in a user-friendly profile that is compatible with smartphone fitness apps as a way of helping users to realise how much difference taking a stand every day can make. Furthermore, this data can be anonymously aggregated across the workplace to compare company-wide stats. This can be sent to management or Health and Safety departments in order to check occupancy and confirm the usage on their investment – even setting healthcare challenges between departments to help raise awareness of sedentary lifestyles.
We really liked how Humanscale are thinking outside of the box on this one. We often see tech companies apply ergonomics to their products and here we're seeing the reverse – how an ergonomics specialist can help determine innovative technology that helps us work towards a stronger, healthier workforce.
All in all, this was an excellent showroom tour. We found the discussion on the futures of work most engaging and informative and we are thrilled to see the groundswell in options for people looking to switch to a healthier way to work.