Make no mistake. Google's new London headquarters set to open in 2016 will once again set the company apart.
Its worldwide offices are synonymous with pure theatre. Usually based on a theme, a Google office is awash with zany designs, bright fixtures and fittings, and the highest-spec tailoring.
The aim? To create vibrant, buzzing workspaces to inspire staff. In fact, creating a sense of community – a social space where people mingle naturally – is one of the key elements behind interior fit outs at Google.
We're seeing this inspiration spiral through countless office refurbishments across London. Rather than staff fitting into an office design, dynamic, flexible spaces are being shaped – even defined – by the people who use them. This matters … as people matter.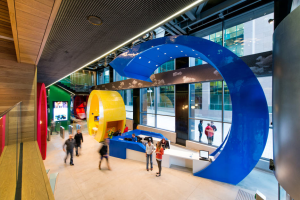 Why Should Your Office Reflect Your Brand?
Office branding is more than your company logo splashed across stationery. It's about creating an office with personality – an inclusive atmosphere where staff feel at home.
Plus, brand identity is about creating a space which singles you out to clients. After all, your office is an extra staff member 24/7.
It sells your professionalism; it 'speaks' to prospects the moment they come in. What do you want your office to say about your business?
A Fit Out is an Opportunity to…
Stamp your brand personality on your office space. It is a chance to create a comfortable, approachable working atmosphere for staff and visitors.
Update your brand image. If your office hasn't changed in years, an interior fit out can give it a new lease of life. Including your staff! Is it time to introduce a vibrant colour into the office to compliment branding? Or have splashes of inspiring wall art across the office, or tactile fixtures and standout textures to create a new look?
Change how you work. An office isn't just about creating a brand image, it's also a fantastic chance to transform how you work. And get the best from your staff!
There's no doubt: an office with an individual brand identity speaks volumes about your business. And you don't need Google's eye-popping budget to achieve it either.