With London Design Festival just behind us, we take a look at 3 of the major developments that are changing the shape and contents of the workplace.
1. Mass Customisation
The entrepreneurial surge in tech startups, SMEs and micro-businesses has changed the way many new companies look at their real estate requirements. Project teams are expanding and contracting to meet their market requirements, tasks and future objectives. With the onus on global digital coworking, teams often don't even have to share a physical space to successfully complete projects. This has led many larger organisations to mimic the flexibility of the smaller companies, outsourcing and defining team sizes by skill sets. With these companies the new focus is sublettings, campus and AirBnB-style offices (such as LiquidSpace).
Designers are responding to these changes with innovative furniture that 'breathes' with the shape of the interior. Developing customisable solutions such as walls and partitions; seating and desking that can be tailored to the size of the workforce and activity, which can often be easily stored when not in use.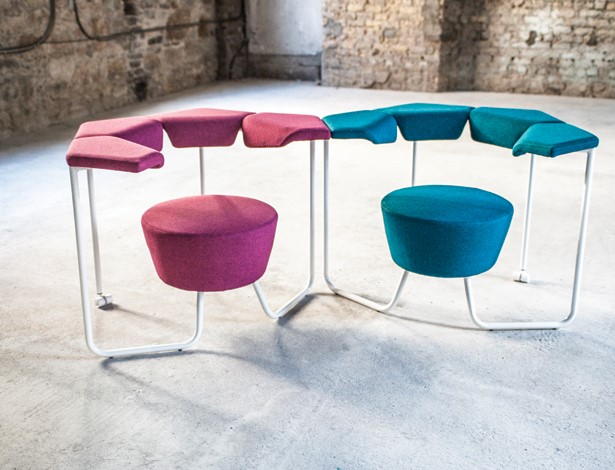 Perch – Thomas Montgomery
Perch is a creative approach to seating from Thomas Montgomery. The unusual modular design is intended to "improve dynamic short-term workflow", with a low seat surrounded by elbow-height platforms for use as working surfaces. Perfect for ad-hoc collaboration meetings and laptop touchdown areas, the simplicity of materials in Perch's wire frame and fabric can be easily packed down and stored when not in use.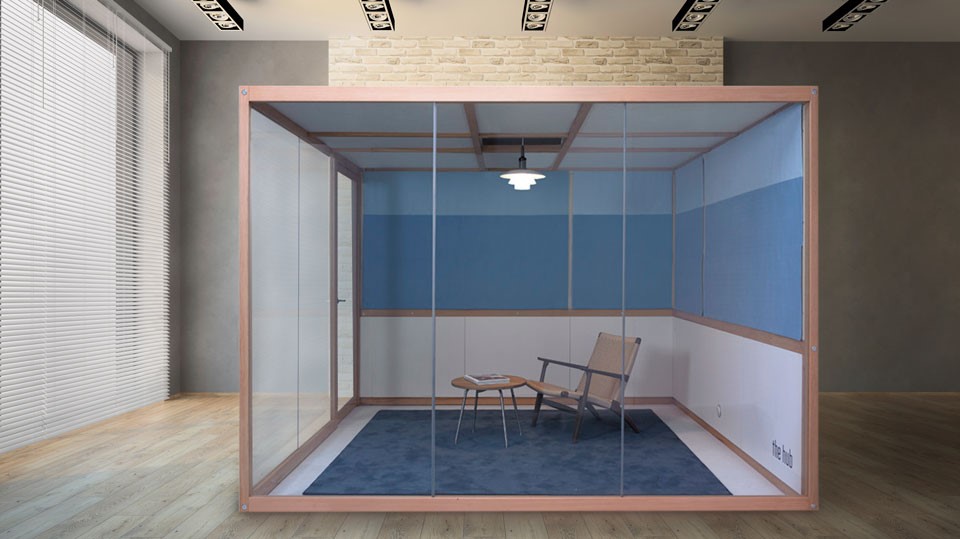 The Hub – Acoustic Hubs
This unassuming design from Acoustic Hubs displayed at 100% Design had people shouting on either side of the glass to see just how sound-proofed the room was. Needless to say, not a word was heard. With only 8 components, this flat-pack design is immediately customisable and can be installed and deconstructed in a lunch-break. We see this working as an addition to offices that have constantly changing space requirements with a meeting room or quiet cellular room one day, then dismantled and stored for an open-plan workspace the next.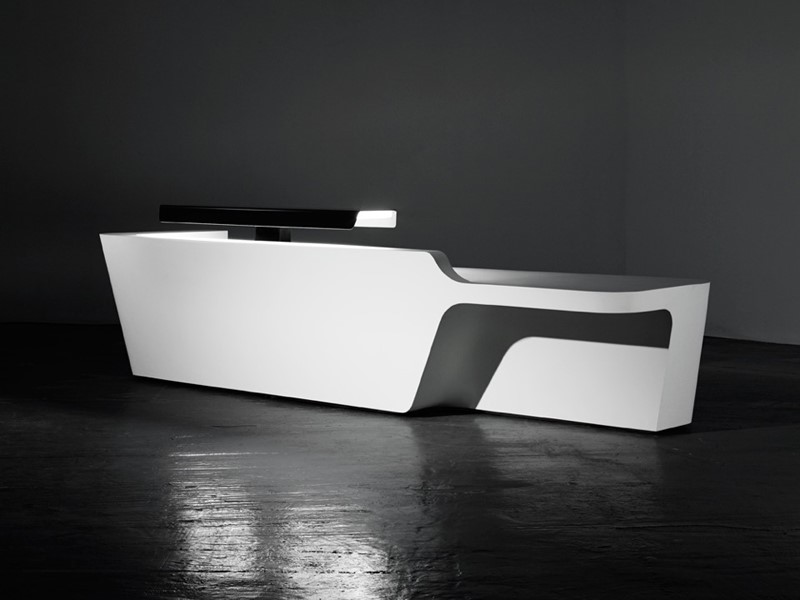 Isomi – Concrete Collection
Isomi have moved from strength to strength since their success in 2011 with the Kin collection. They presented at 100% Design a robust, highly durable concrete range of their products. Despite the high-density material, the platform is considerably versatile, comprising of distinct module parts that can be fused together on-site into one seamless form – dependent on the shape of the area and type of activity. The versatility of the form means that clients can customise the desk to them – integrating cable ports; storage and even LED logos and company branding.
2. E-Space and Supermobility
From Skype to Powownow, applications and tech are providing us with new ways to communicate and changing the way we do business on a global scale. One concept that is being whispered in the halls of Facebook, Google and WeWork is described as 'Supermobility,' where staff and occupants have constant access to power, data, media and the collaborative tools necessary to communicate with fellow workers and clients – at all times, everywhere. With sharing platforms and new video conferencing solutions, coworking across the globe can feel as natural as being in the same room.
Many of the 2015 designs reflected this rise of supermobility through applied technology that puts the user in the driving seat. Often combining an individual's requirements into one maneuverable device, these designs restore control to the user of their working environment – from mini desk fans that allow for temperature control and air purification to DIY coffee making apps that saves time for the tea/coffee office intern.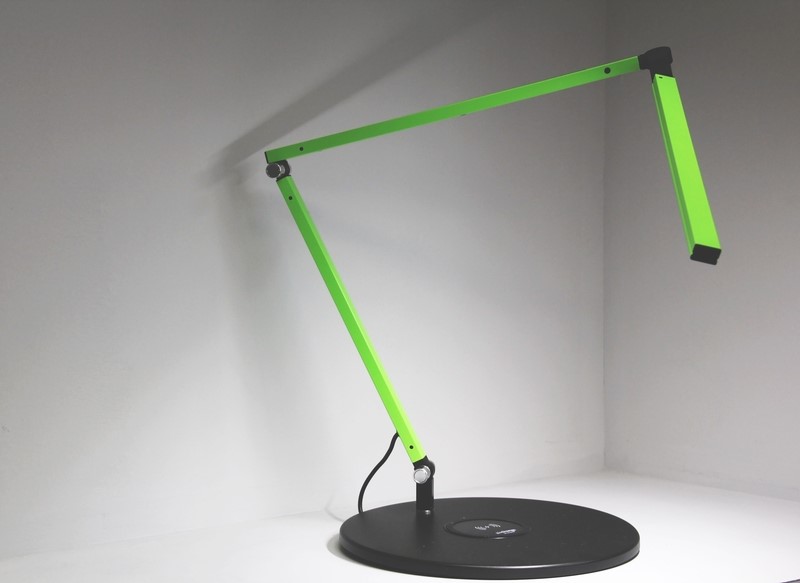 Ergo – Koncept
The KONCEPT range combines an intelligent wireless charging platform with an ergonomic task light. This offers the benefits of reduced running costs and with LEDs instead of incandescent bulbs, it lowers heat generation with a slimline, elegant look. With a range of colours and forms, this suits any space – from kitchen worksurfaces to standalone lounge tables.
Scanomat – TopBrewer
With a clean and minimal design, TopBrewer provides a stylish centrepiece for workspaces, kitchens and canteens to foster social interaction. Users select and customise their drink from a comprehensive premium coffee menu via the TopBrewer app with iBeacon integration for ultra-fast connectivity to your smartphone or Apple Watch.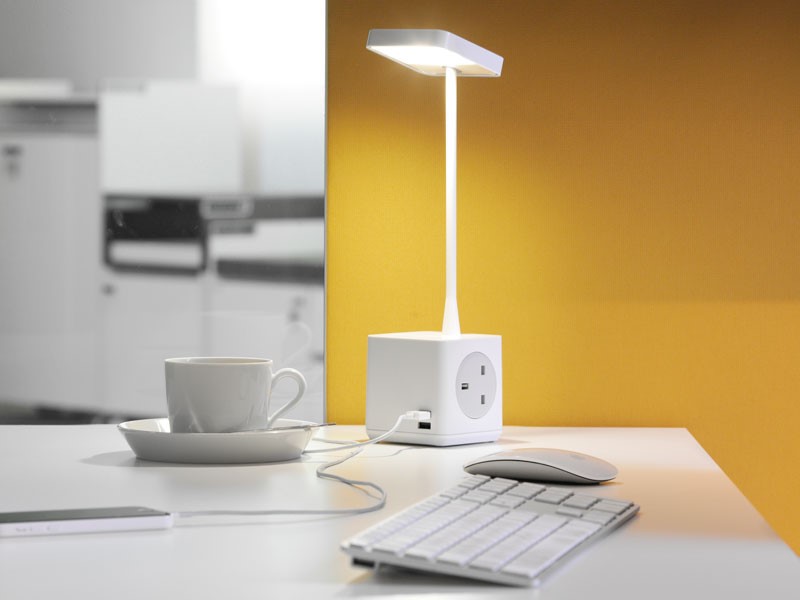 Colebrook Bosson Saunders – Cubert
Integrating high-speed charge and power supply into a compact and sleek task light, it's easy to see why Cubert won a Red Dot award this year for product design. The close-knit LEDs provide a broad distribution of light aided by a flexible head that can be repositioned to meet the user's tasks. Furthermore, Colebrook Bosson Saunders have considered the physiological impacts of the task light, ensuring the illumination casts a single shadow and is glare free; reducing the risk of distraction and headaches from concentrated study.
3. Wellbeing
Wellbeing in the workplace is no longer simply a concern for the health and safety department. With the world living longer, the age of retirement is constantly being set further and further back. This is leading to a focus on 'ageless' office furniture that accommodates the wellbeing of the 19 year old new starter and the 75 year old office veteran. What's more, with the division between work and home life yielding, companies are thinking increasingly of the comfort of their staff – nurturing and encouraging workers to recharge mentally to achieve balance in their supermobile, digital lifestyles.
The dominant product developments here are intelligent designs that support the latest (mental and physical) health studies, creating furniture and interiors that are fitted around the user and not the user to the product.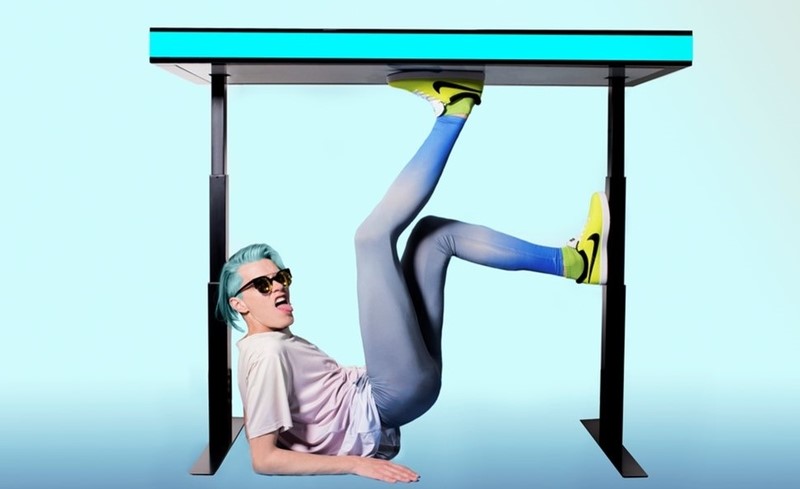 TableAir – TableAir
One of the recent focuses in the media has been how sitting is having a detrimental effect on our bodies, to cater to this many products now offer a sit/stand solution. TableAir is one of these designs that's got the world talking. Featured in Wired magazine, TableAir matches an iconic aesthetic with intelligent design. By raising your hand on standing, a smart sensor raises the desk to meet it; ensuring that you're working at the correct level – without stretching or straining. Power and data connectors are integrated into the desk and there's also an app which tracks the calories you've burnt from standing. Supposedly this figure is disappointing at the end of the day, but over the course of a year – it's like you've ran a marathon!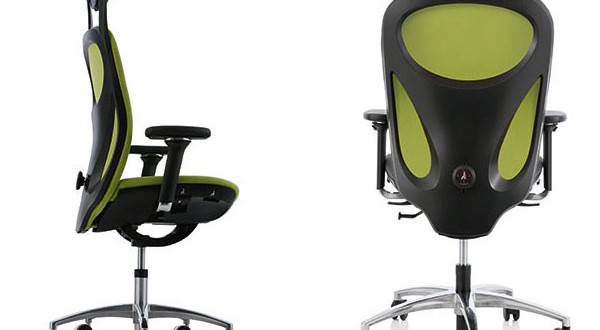 KÖHL – Auero Chair
One of the reasons we fidget so often in our chairs is due to the lack of ventilation. This novel design from Foster + Partner's Angelika Seeschaaf, provides all the support of a high-specification ergonomic task chair, while also offering something a little different. Mirroring the biology of a plant's leaf, temperature balance and moisture control are naturally regulated through the 'pores' of Aureo's intelligent fabric; allowing for a longer, more comfortable sit.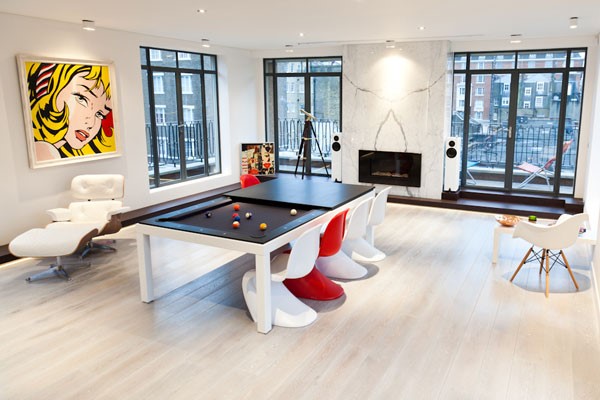 Aramith – FUSIONTABLES
We've all seen the convertible office desks into ping-pong tables, but transforming the boardroom into a snooker hall has to be a step up for companies wanting to distinguish themselves. The sleek elegance of the design means that when the tabletop is employed, the pool table is completely hidden. With telescopic legs and a smooth rolling mechanism on the tabletop, the conversion from work to play is effortless; perfect for winding down in the office at the end of a busy day.