One area that's becoming increasingly popular – both in offices and the furniture market – is the breakout space. Typically, this was an area to escape the prosaic activities of the workstation, but in recent years there's been a move towards the 'third space' where workers can collaborate, hold meetings and touchdown for their daily tasks. In this article, we take a look at some of these new designs, as well as our top choices for the contemporary office.
BuzziHub Open
Manufacturer: BuzziSpace
Launched: 2014
Designer: Alan Giles
This updated model on the 2011 design provides an acoustic niche for concentrative work. When two Buzzihubs are facing each other, they act as a micro meeting space, enclosing the inhabitants in their own room; offering privacy in a comfortable, quiet zone.  Despite its height, the simple, rounded lines give the hub a soft elegance that blends into the background of the space. In cutting away the walls of the original Buzzihub, more light is taken into the shelter and conversations can still be had with the rest of the office, whilst allowing for acoustic privacy simply by sitting back into the seat.
Tato, Tatino, Tatone
Manufacturer: Herman Miller
Launched: 2010
Designer: Denis Santachiara & Enrico Baleri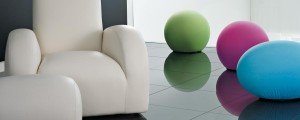 Egg, ball or bagel? These playful bursts of colour from designers Santachiara and Baleri offer a spot of fun for breakout spaces and can be used as footrests or seats; great for gathering staff together for quick, informal meetings. The soft padded seat top conforms to the sitter and bounces back to its original form on standing. The replaceable stretched fabric hides a firm internal structure, ensuring that users are comfortable, whilst providing the necessary balance and stability.
Anemos
Manufacturer: Capellini
Launched: 2015
Designer: Antonio Facco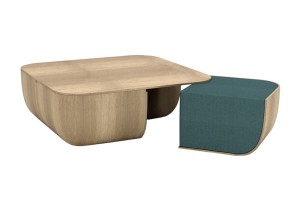 Released this year from Antonio Facco, a rising star of innovative furniture design, Anemos a great example of how bigger isn't always better. Comprising of 5 elements; 4 retractable poufs and a low table, the beauty here is in the system's simplicity. The waterfall upholstered seats seamlessly nestle together beneath the table to become a single, curved block of wood. This pared-down aesthetic is perfect as an eye-catching space-saver in busy reception and touchdown spaces.
Geta Low
Manufacturer: Modus
Launched: 2014
Designer: Arik Levy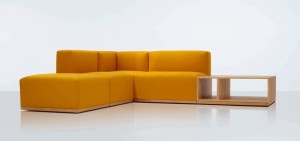 Geta helps create that 'home away from home' feel in the office that is becoming ever more popular. With plush, low seating in a large range of modules; virtually any composition is possible. The plinth is a great addition for storage and the tight wooden frame neatly contrasts with the deep cushioned seating. When the system is placed back-to-back, the clustered seats are low enough for neighbourly conversation, excellent for a morning coffee meeting space.
Zinta
Manufacturer: Arper
Launched: 2014
Designer: Lievore Altherr Molina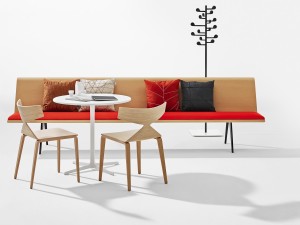 Arper's modular system, Zinta is a visual treat. Comprising of a thin, timber shell on an aluminium leg, the range is split into waiting, eating and lounge platforms – the main distinction is where you'd like the majority of the generous cushion support. The beauty of this system is in the contrast of the slimline, gentle lines of the wooden shell with the warm, bright upholstery. With a range of cushion options with diverse materials and fillings, it can serve a range of environments from residential to cafeteria, lounge to office with equal ease.
Horizon Range
Manufacturer: Connection
Launched: 2010
Designer: Roger Webb Associates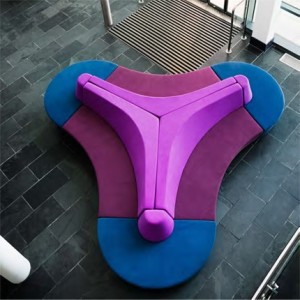 With so many colours and configurations at a reasonable price point – Connection's Horizon range is like Lego for designers and clients. The sleek, curved lines of this collection's pieces are intricately weaved together to create a variety of organic expressions; from small touchdown hubs to lengthened waves throughout the workspace. As the range is dual upholstered, colour palettes can be as striking or unassuming as preferred. We see this working in receptions, social spaces or educational settings where you can collaborate and communicate.
Triscape
Manufacturer: HBF
Launched: 2015
Designer: Todd Bracher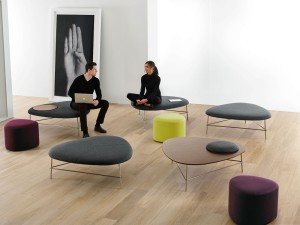 There is a current trend in both offices and homes to return to nature – in textile, upholstery and form. The TriScape collection is a standout example of this, taking its cues from organic patterns and textures (most noticeably here, the skimming pebble). We see this range of tables and seats in collaborative open-plan spaces; fulfilling the workplace need for functionality and community. The contoured tops rest on a light metal frame and can be specified as a fully upholstered seats, benches or stools and table or work surfaces in a myriad materials that include wood and rich leather.
Circle
Manufacturer: Walter Knoll
Launched: 2008
Designer: UNStudio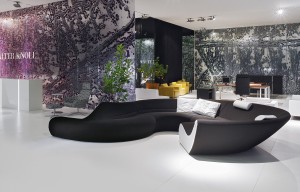 The circle collection from Walter Knoll is certainly a showstopper – the plush, flowing contours of the design bring to mind the waveforms of water or magma. Dividing into 3 main parts, the sofa backrest remains the same for each section; ensuring a fluid line passes along the system; while the angle and joining seat moves from a deep, relaxed recline (for laptop use) to shallow for upright sitting meetings. Given the right amount of space, this modular design is a signature piece for offices wanting to make a strong and daring impression.
Away From Desk
Manufacturer: OrangeBox
Launched: 2014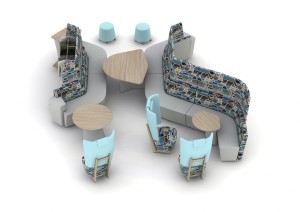 Released last year, OrangeBox made waves with this wide collection of modular tables and breakout seating. Their main goal was to create that 'third space' – zones that offer greater inspiration than the average workstation. Using the curvature of the modular system, small coves are created for different activities; from collaborative ad-hoc tasks to individual and private work. These sections include power and data connectivity and facilities for display screens, so that the entire platform becomes a hive of activity, broken up by acoustic screens and panels.
Point
Manufacturer: Materia
Launched: 2014
Designer: Fredrik Mattson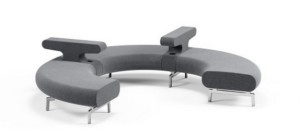 The strong construction of Point means the product has a wide array of different combinations; each creating very different personalities and functions. Power sockets can be introduced to divide spaces into collaborative zones and the flat geometric armrests and backrests can be placed to ringfence areas for specific uses. We particularly like the benching platform; it's deep enough to sit on both sides and works very well on its own or as a long dynamic shape, winding its way through the office.