As our working culture and views of the office change, so will the working models we employee across our workforces. There are three core models defining the post pandemic: the hybrid model, the hub and spoke model and the distributed model. Considering over 50% of people want to remain working from home, either full or part time, it is highly likely that these working models will replace the traditional 9-5 working model.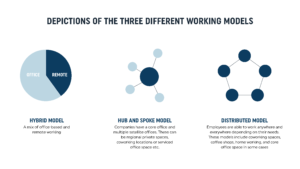 Hybrid Working Model
The hybrid working model enables employees to split their time between the office and working remotely. This is the most commonly used working model. Results from the BCG survey revealed how 67% of employees who worked remotely since COVID-19 want to split their time. This kind of model empowers workers with choice; guaranteeing that all employees will have a connection to the central office while having the freedom to work remotely.
Hub and Spoke Model
The hub and spoke model allows employees to work from a central hub office as well as other localised workspace, such as regional, coworking, serviced and home offices. This model provides employees with greater choice, working closer to home and cutting commuter time, while maintaining a cultural centre with the hub office. Regulated industries, such as financial and nationwide companies, are more inclined to use this model due to their network of offices.
Distributed Model
The distributed model takes remote working and applies it across a whole business, meaning all employees work from a range of environments, including home offices and coworking spaces, without a core office space. This model is a good option for businesses keen to utilise global talent, as it removes limits imposed by distance and geographic boundaries. However without a central hub, company culture and collaboration may suffer.
Determining the best model for your company
In order to understand what model best works for their business, companies should partake in a workplace consultancy process like space rationalisation to identify inefficiencies in their workspace. Similarly, undertaking a companywide employee sentiment survey will gain valuable insight and establish trust with staff. Based on this research, the most appropriate working model can then be determined.
If you have any questions regarding these models or would like to speak to a workplace consultant, please contact one of our specialists.