Many of the shifts towards more flexible workplace models and strategies which we see happening today were already taking place prior to COVID-19. With the rise of remote and flexible working, implementing a successful working strategy is crucial to providing the right work structure for your team, and ultimately to ensuring your business stays productive and profitable in the return to work. There are five core strategic features that define a successful future workplace that companies should ensure to employees in the return to the office.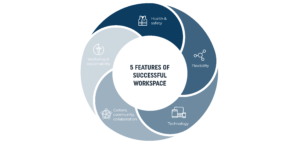 Health & Safety
Your employees' primary focus in the return to the office will be on the safety of their workplace. A survey conducted by Disruptive Technologies in April 2021 revealed that more than 50% of workers are afraid to return to their offices due to anxieties around hygiene. As such, COVID-conscious design elements like handwashing stations, wayfinding and signage will help ease reintegration concerns and maintain a safe working environment.
Flexibility
The future office will most likely follow one of three flexible working models: hybrid, hub and spoke, and distributed. These working models will in turn need to be facilitated by reconsidered work environments. Agile workspaces and customisable spaces are ideal for providing freedom of choice for employees who have grown used to the conveniences of remote working.
Technology
Digital communication technologies have been crucial to business success over the past year and a half, and will continue to facilitate team collaboration at a distance. Smart technologies such as sensor-activated lighting systems will also feature prominently in workplace design, collecting real-time data and improving sustainability and cost-effectiveness by measuring exactly how our spaces are being used.
Culture, Community, Collaboration
The things we miss the most about being in the office are company culture, collaboration and community. Over 50% of employees miss connecting with colleagues in-person and 31% fell that the office is more collaborative. Maintaining company culture is intrinsic to your business success as it drives employee satisfaction, loyalty and productivity. Thus, the central hub will remain vital in fostering the company mission and providing an environment for networking, training and mentoring new recruits, as well as liaising with clients. Many businesses are redesigning their offices to support organisational priorities and the kinds of interaction and collaboration that cannot happen remotely.
Wellbeing & Sustainability
While wellbeing has always been a core part of effective office design, its importance has heightened since the cultural shifts brought about by the pandemic. Wellbeing-focused design elements such as ventilation and air condition will be prevalent in the future office, and a vital part of an effective return to work. Sustainable design features elements like smart lighting systems and biophilia will also contribute towards a healthy working environment and company culture, and enable your business to thrive.
Curious about how to prepare your business for the return to work? Get in touch with our team of workplace advisors to speak more about your next steps.